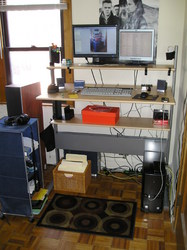 There have been plenty of articles and opinion regarding stand-up desks as a place to get work done. I don't want to repeat everything these other articles have to say, but I thought I'd share a couple quick pictures of my own. Oh, did I mention it has been covered on reddit multiple times too?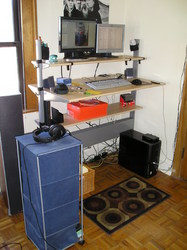 It doesn't have to be crazy, it just has to work, and mine has done that really well so far. I went with the IKEA Fredrick computer workstation, which has been noted around the Internets as a viable option for a non-adjustable stand-up desk.
I'm amazed at how quick I've gotten used to it. I don't have a barstool or anything to sit on yet, mostly to resist the temptation to sit. Right now if I need a place to sit, like when I just want to relax and drink my coffee while reading the news in the morning, I'll take my laptop to the other room where my old desk and chair are sitting. I will likely acquire some sort of high chair in the next couple weeks once I've gotten to the point where standing feels like the natural thing to do and I wouldn't want to do it all the time.