Home audio is one of those things where you keep wanting to improve what you have. I finally reached the point where I wanted an upgrade of the speakers that had treated me well for a year. I'll let you make the call, but I may have gone a bit overboard on the upgrade. However, I'm really happy with the decision so far with the new speakers.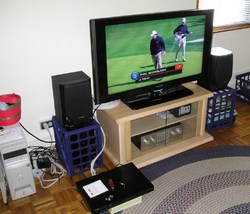 The audio setup started rather modestly. When I first moved in to my current apartment, my Dad had an old Marantz PM500 amplifier that he let me bring along. It worked well for its purpose—to power two speakers I had laying around from a shelf system that had bit the dust. With no remote, it wasn't exactly new or top of the line, but it did the job. You can see that original setup in all its glory, including the beautifully-rigged DVD player not even in the cabinet.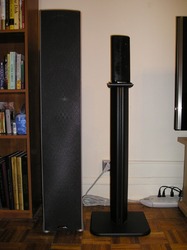 It was about a year ago I decided it was time for an upgrade on the audio front. I used my $600 stimulus check from the government and bought a new receiver and home theater speaker system, which I detailed in an earlier post about my home theater and audio setup. I realize now I never took a picture of that setup and posted it here—whoops. Fast forwarding a year, let's just say we upgraded the front speakers slightly.
The new speakers are the Polk Audio Monitor 70s. They are the top of the line in the Monitor Series, which seems to be a line they are phasing out. Newegg has some great deals on the entire line. The speakers are pretty good-looking.
They look large, but not overwhelming in my full speaker and entertainment system setup. I'm planning on holding onto these guys for quite a few years to come, so I didn't hold back on the purchase. Hopefully I don't start itching to spend more money anytime soon, although the center channel is now awfully undersized.